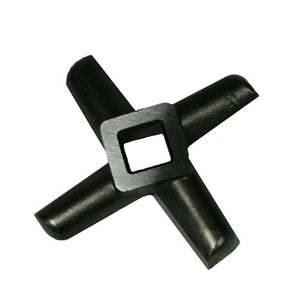 Meat Grinder Knives
Regular price
$5,300.00
$0.00
Unit price
per
Our Double-Cut meat grinder knives have been proven by years of satisfied customer use. This self-sharpening meat grinder system is the most advanced of its kind in the industry. One primary feature is a thinner plate design, which produces cooler cutting and less meat spoilage. The super-sharp knives cut meat into appealing strands without smashing it. This allows your meat products to last longer and extends shelf life.
Double Cut Grinder Knives
The double-cut knives give added strength over insert type knives and permit a much easier and thorough cleaning compared to bars attached with screws or rivets. Since these are solid knives, they inhibit bacteria formation and promote a more sanitary operation. This reduces the amount of wasted meat due to sanitation issues.
Double Cut System
In a double-cut meat grinder blade system, one reversible double-cut grinder plate matches with two grinder knives. The plate is color coded for proper mating of the cutting surfaces. First, the "red dot" surface is used and when it becomes dull after months of hard cutting, the knife is discarded and the grinder plates are turned over. The second knife is then put into position for several more months of sharp cutting, after which both knife and plate are discarded.
Sizing
---